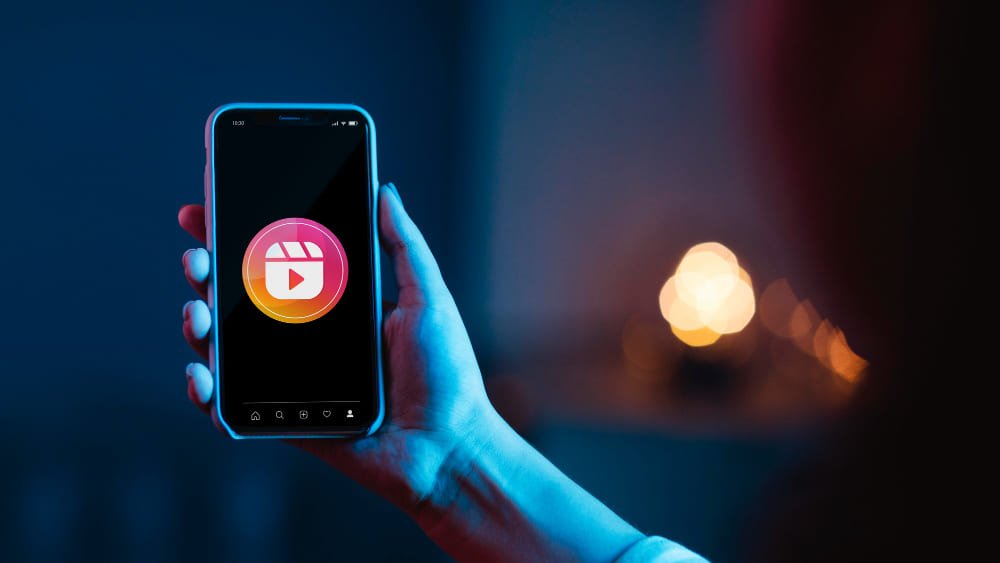 Overview:
Imagine enjoying your favorite movie on your mobile phone without worrying about exhausting your mobile data and experiencing seamless playback. This isn't just a dream; very soon, such a possibility will become a reality. A revolutionary advancement in technology called Direct-to-Mobile (D2M) is on the horizon, promising a portable video broadcast service or, in simpler terms, television service right on our mobile phones.
The genesis of this technology traces back to a significant milestone – a white paper released in June 2022 by the Indian Institute of Technology Kanpur, in collaboration with Prasar Bharti, India's state-owned public broadcasting organization, and the Telecommunications Development Society, India. This paper presented D2M as a pivotal component of NextGen Broadcast (NGB), an amalgamation of various existing technologies aimed at achieving optimal outcomes.
In this article, we will delve into this transformative technology, exploring its potential impact on both individuals and businesses. We'll discuss its array of benefits and the challenges it presents, while also examining the technological and regulatory facets. Ultimately, we'll envision the exciting future possibilities that this groundbreaking technology could unlock.
Contents:
What is Direct-to-Mobile (D2M) Technology
How the Direct-to-Mobile (D2M) Technology Ecosystem is Structured
Key Factors Driving the Implementation of Direct-to-Mobile (D2M) Technology
The Technological Framework of Direct-to-Mobile (D2M) Technology
Key Benefits of Direct-to-Mobile (D2M) Technology
Potential Challenges in Direct-to-Mobile (D2M) Technology Implementation
Aspects of Network/DTH Operators' Business
Policy & Regulatory Aspects
The Road Ahead
What is Direct-to-Mobile (D2M) Technology:
This cutting-edge NextGen Broadcast (NGB) technology redefines how video and multimedia content could be delivered directly to mobile phones, eliminating the need for an internet connection. It operates much like FM radio on mobile devices, where phones access radio frequencies for audio broadcasts. With Direct-to-Mobile (D2M) technology, users can enjoy a TV-like experience on their mobile devices, similar to traditional cable or DTH connections.
The foundation of this innovation lies in the convergence of broadband and broadcast technologies, enabling mobile phones to capture digital TV signals from the terrestrial networks within specific geographic regions. Currently undergoing trials, this groundbreaking technology is closely overseen by the Department of Telecom and the Information & Broadcasting Ministry of India, in collaboration with the esteemed Indian Institute of Technology, Kanpur.
How the Direct-to-Mobile (D2M) Technology Ecosystem is Structured: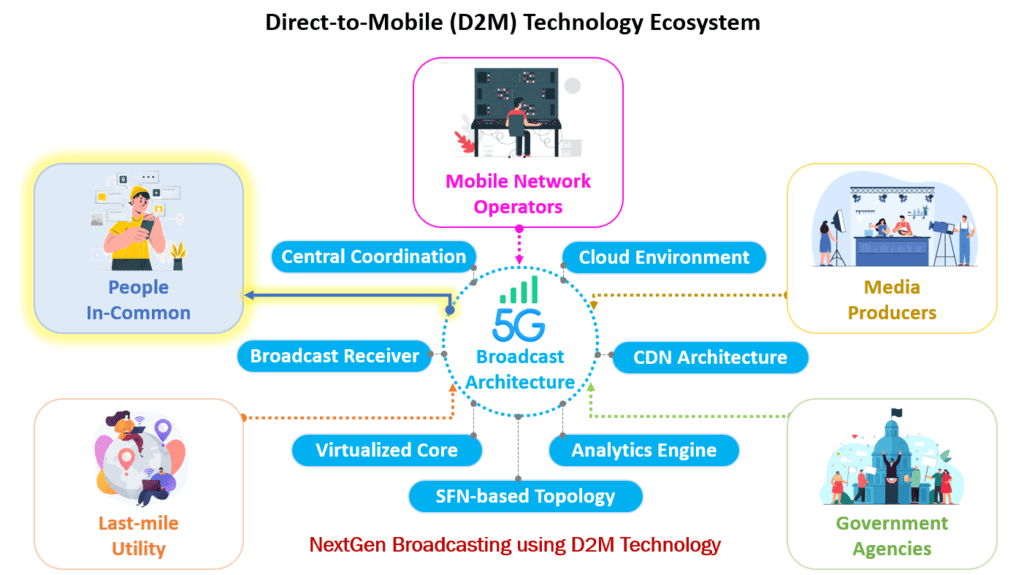 Key Factors Driving the Implementation of Direct-to-Mobile (D2M) Technology:
The implementation of D2M technology is driven by four key motives:
1. The Potential Technological Convergence of Broadcast and Broadband
Technologists worldwide are recognizing the necessity for a convergence in content delivery, bridging the gap between broadcast and broadband. This need is notably heightened with the advent of 5G, enhancing the effectiveness of delivering rich media to the last mile.
2. The Rise of Smartphone Users
The increasing availability of mobile phones and the diverse content accessible are anticipated to drive a notable surge in mobile device adoption worldwide. In contrast, TV users are maintaining a steady or declining trend, shifting towards mobile devices. Specifically in India, the trajectory is evident, with an estimated 220 million households using TV by 2023, while smartphone users have already surpassed 750 million. According to Deloitte's 2022 Global TMT report, this number is forecasted to reach 1 billion by 2026.
3. The Need to Strengthen the Public Information Delivery Network
Governments around the world are actively pursuing a technology that facilitates seamless communication with their citizens. While FM radio channels have been efficient, the increasing consumption of video content and the widespread usage of video delivery platforms like smartphones have created new avenues. These avenues allow the direct delivery of informative and vital content, such as educational materials and emergency alerts, to end-users. This direct delivery ensures reliability and reduces dependence on internet or cellular networks
4. Satellite Broadcasting Failure Contingency Plan
In the event of an unanticipated failure in the satellite broadcasting system, D2M technology activates a standby mode for the content delivery network. This allows for a seamless terrestrial fallback, ensuring the broadcast of essential public content with strategic or national significance.
The Technological Framework of Direct-to-Mobile (D2M) Technology:
The technological framework of D2M technology can be comprehended through five pivotal tech elements:
1. The CDN Aspect
Referred to as NexGen Broadcast, D2M technology seamlessly extends content delivery networks (CDNs) and integrates into the OTT ecosystem and architecture. Additionally, leveraging edge computing capabilities on devices amplifies the video delivery mechanism, ultimately enhancing the video viewing experience on mobile.
2. Spectrum Band
In a bid to assess the feasibility of providing broadcast services directly to smartphones, the Department of Telecommunications (DoT), India has convened a committee. This endeavor entails the utilization of the 526-582 MHz spectrum band, which would work in tandem with both broadcast and mobile services. Currently, the 526-582 MHz band is allocated for use by Indian government broadcasting TV channels and terrestrial TV broadcasters.
3. 5G Broadcast Architecture
The D2M technology utilizes NextGen Broadcast (NGB) architecture, combining multiple advanced technologies for optimal Public Broadcaster value. For example, ATSC3.0-based NGB, an IP-based standard, can integrate with 4G/5G Core Networks. The architecture embodies Network Densification, Cloud-native Environment, IP transport, and Analytics. Extending seamlessly to the OTT ecosystem via CDNs, it employs 'network slice' concept in converged 5G mobile networks. This enables Linear TV (Live News and sports), Non-linear TV (OTT like Hotstar, Amazon Prime, Netflix, Sony Liv), Hyper-local Broadcasting (Localized News and advertisements), IoT and Broadcast of Things, and Firmware downloads for autonomous cars and enterprise applications.
4. Hybrid Network Architecture
As we transition from analog to D2M, exploring newer, efficient transmission technologies, platforms, and architectures is crucial. Recent studies highlight the efficacy of a hybrid transmission network, combining High Power High Tower and Low Power Low Tower with precise RF planning. This hybrid approach significantly enhances coverage, both outdoors and indoors, for Public Broadcasters. Additionally, Dense single-frequency networking (SFN) stands as a key innovation facilitated by NextGen Broadcast (NGB).
5. Proof-of-Concept
The planned Proof-of-Concept has been executed by the Indian Institute of Technology, Kanpur in collaboration with Saankhya Labs, a Bengaluru-based electronics hardware provider. They utilized Saankhya's Software-Defined Radio (SDR) NextGen P3 chip, integrated into Broadcast Radio Heads (BRH), a reference smartphone, a USB dongle, and a Wi-Fi gateway for the PoC. This involved setting up a 3-site live PoC in Bengaluru using low-power BRHs on cell towers for testing purposes.
Key Benefits of Direct-to-Mobile (D2M) Technology:
Some of the key benefits D2M technology offers are:
1. For People In-general:
Access multimedia content from Over-the-Top (OTT) or Video-on-Demand (VoD) platforms seamlessly, without using up your mobile data or even relying on the cellular network.
2. For Rural Population:
Similar to FM broadcast, individuals in rural areas with limited network connectivity can access mainstream video media on their phones without incurring internet data charges.
3. For Network Operators:
Optimizes mobile spectrum for calls and data support by freeing up bandwidth previously used for video consumption, resulting in reduced call drops and improved internet browsing speeds.
4. For Media Wings:
This technology, by attracting a larger viewership, would expand the potential for enhanced ad revenue and personalized content options for media producers.
5. For Government Agencies:
With this technology, government agencies can conduct educational programs for remote schools and colleges with limited internet accessibility. Additionally, remote farmers could access crucial information on farming, irrigation practices, or weather forecasts, enabling better crop planning and management.
Potential Challenges in Direct-to-Mobile (D2M) Technology Implementation:
There are two potential conflicts of interest that could hinder major industry stakeholders from fully committing to the widespread launch and implementation of D2M technology:
1. The Conflict of Interest of Mobile Operators
It is believed that D2M technology implementation could lead to business opportunity losses for mobile network operators. This is due to the substantial reduction in internet-based video consumption—a primary revenue source, accounting for nearly 80% of data usage.
2. The Conflict of Interest of Cable TV/ DTH Operators
In addition to mobile network operators, cable and DTH operators could face significant impact if this technology gains traction. This is because it involves direct broadcasting to consumers' homes, bypassing intermediaries, representing a substantial and challenging shift to adapt to.
So, is it "All Bad" for Network/DTH Operators' Business:
Potentially not! The Direct-to-Mobile (D2M) technology extends benefits to businesses as well. Telecom and internet service providers can optimize their operations by rerouting video traffic from the mobile network to the broadcast network. This redirection effectively reduces congestion on valuable mobile spectrum, allowing for more efficient utilization and allocation of resources. As video traffic is shifted away from the core mobile network, the spectrum becomes less congested, leading to fewer call drops and improved data speeds—a direct enhancement in service quality for consumers.
Policy & Regulatory Aspects:
1. Spectrum and Licensing
The range of 526 – 582 MHz needs to be allocated specifically for Direct-to-Mobile Broadcasting, accompanied by appropriate licensing provisions. This allocation will empower the Public Broadcaster to establish and manage a free-to-air broadcast service platform akin to DD FreeDish DTH. Through this platform, both public and private audio, video, and data broadcast services can be transmitted to compatible smart devices and smartphones.
2. PPP Model for Network Rollout
The envisioned Direct-to-Mobile (D2M) Free Air Broadcast Service Platform could operate effectively through a Public-Private Partnership model, ensuring financial self-sustainability. This model would involve infrastructure sharing and colocation with 4G or 5G cellular operators, similar to the operational approach of DD FreeDish DTH.
3. Universal Service Obligation Fund (USOF) Allocation
As rural rollouts initially serve a non-commercial public service, allocating funds from the Universal Service Obligation Fund (USOF) for the implementation of these networks and devices can effectively initiate and bolster the ecosystem.
4. Public Broadcasting Mandate
Establishing a mandatory provision for Direct-to-Mobile (D2M) broadcasting of Doordarshan and All India Radio services to all compatible smart devices and smartphones, akin to the mandatory carriage on traditional DTH/Cable networks, is essential.
5. Strategic and National Broadcasts Mandate
Enforcing a mandatory provision for local emergency alerts, regional disaster management updates, and nationwide broadcasts of strategic and national importance to all compatible smart devices and smartphones is critical for public safety and awareness.
The Road Ahead:
The Department of Telecommunications (DoT) is presently engaged in extensive feasibility studies concerning D2M technology, which is currently in its developmental phase. Establishing active collaboration with various stakeholders, notably telecommunications companies, is pivotal to ensure a successful and extensive rollout. To achieve this, the government must devise compelling propositions or policy reforms that encourage enthusiastic stakeholder involvement. Tackling infrastructural challenges is of paramount importance, considering the imperative to ensure widespread technology accessibility throughout the country. Despite these challenges, given the immense potential and benefits of direct-to-mobile technology, the Indian government remains resolute in steering the future of content delivery.