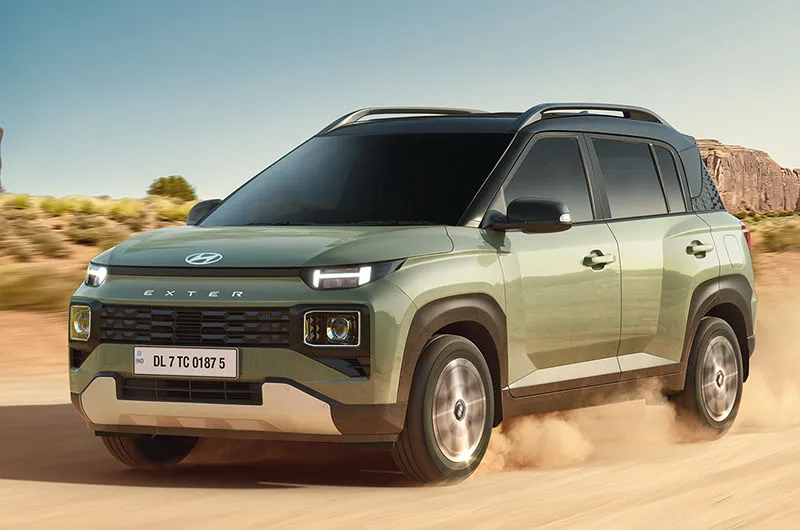 Photo Courtesy: Hyundai India, The launch model of Hyundai Exter in July 2023
Overview:
Hyundai introduced the Exter, a micro-SUV, in the Indian market in July 2023. It is available in petrol and CNG versions, with the petrol variant offering an automatic transmission option. The launch of Hyundai Exter is aimed at entry-level SUV buyers, with prices starting at Rs 5.99 lakh and going up to Rs 9.31 lakh (ex-showroom Delhi) across its five variants: EX, S, SX, SX(O), and SX(O) Connect. Hyundai has been steadily increasing its market share in the Indian SUV market, growing from 34% in 2019 to 54% in 2023. SUVs account for 46% of the Indian auto market.
The Target Audience:
Designed to captivate the tech-savvy, fashion-forward millennials who exude style and seek to make a bold statement, this car embodies a perfect blend of innovation and flair. With a carefully selected price range, it caters to the demands of those with modest budgets while ensuring they can embrace their own unique sense of swag in society
Close Competition From:
Suzuki Ignis (Entry Price: INR ~5.8 Lakh)
Tata Punch (Entry Price: INR ~6 Lakh)
Nissan Magnite (Entry Price: INR ~6 Lakh)
Renault Kiger (Entry Price: INR ~6.5 Lakh)
Suzuki Fronx (Entry Price: INR ~7.5 Lakh)
Key Features:
1. Engine Capacity: 1.2-litre 4-cylinder
Petrol Engine: 81.86 bhp with Torque of 113.8 Nm
CNG Engine: 68 bhp with Torque of 95.2 Nm
2. Safety:
Equipped with a comprehensive safety suite, including 6 standard airbags and three-point seatbelts, this vehicle prioritizes passenger protection. With an impressive array of 26 standard and 40 advanced safety features, such as Electronic Stability Control, Vehicle Stability Management, and Hill Assist Control, it ensures enhanced safety and peace of mind on the road.
3. Interiors:
Experience the future of connectivity with the car's 8-inch infotainment system offering 61 connectivity features, including BlueLink and smartphone integration. Enjoy multi-language support, voice commands, on-board navigation, a voice-enabled sunroof, and a dashcam with front and rear cameras. With 391 litres of boot space, convenience and versatility are at your fingertips.
4. Exteriors:
Colours: Available in white with black roof, cosmic blue with black roof, red, grey, and khaki
Front: Parametric front grille and H-shape LED daytime running lights, projector headlamps and sporty skid plate, diamond cut 15-inch alloy wheels
Wheel Base: 2450mm x 1631mm
The Claimed Fuel Average:
Petrol (Manual-MT/ Automatic-AMT): ~19 kmpl
CNG: ~27 kmpl
Price Range:
Exter EX MT: INR 5,99,900
Exter S MT: INR 7,26,900
Exter AMT: INR 7,96,980
Exter SX: INR 7,99,900
Exter CNG: INR 8,23,990
Exter SX(O): INR 8,63,900
Exter SX(O) Connect: INR 9,31,990
The TTV Verdict:
Why You Should Go For It:
Budget-friendly for those with smaller pockets
Includes sunroof, diamond alloy wheels, and LED DRLs for a premium appearance
Offers enhanced safety controls for added peace of mind
Provides a compelling alternative to other segment SUVs like Punch and Ignis
Could Have Been Better:
No option available for a diesel variant
Limited roof color options across all color variants